The EVIDENCE project is designed to unlock the potential of SUMP implementation. Quite often, the evidence that is available is ad-hoc, of varying quality and either inaccessible or unavailable within the timescales of decision making. However we know that evidence does exist, but often it's not in an accessible format. Policy makers and professionals that need it, don't have the time or resources to search through it and to gauge the credibility.

The EVIDENCE expert team have been working to solve this 'credibility gap', and so far we have:
completed extensive research to identify existing data (research papers, reports, feasibility studies, etc.) available on the benefits of sustainable transport
completed a series of peer reviews of this data to sort out the reliable research from the unreliable data
based on the peer-reviewed data completed a set of 22 mobility measure reviews
made the evidence available on this website
published a summary report
This enhanced knowledge will help facilitate effective integration of sustainable transport measures into urban mobility plans, improving the credentials as 'sustainable' urban mobility plans. In doing so countries, regions, towns and cities will be better placed to improve health, increase economic efficiency, enhance access to employment, reduce the running costs of transport systems and help manage financial demands for new infrastructure.
Evidence of the proven economic benefits of sustainable transport initiatives to facilitate effective integration in Urban Mobility Plans
Partners
The project has 7 partners: the Wuppertal Institut fur Klima, Umwelt und Energie (Germany), the University of the West of England: Centre for Transport Studies (UK), the RHV Erasmus University (Netherlands), LuxMobility (Luxembourg), Urban Planning Institute of the Republic of Slovenia (Slovenia) and Interactions (Ireland). More details can be found here.
Role LuxMobility
In the beginning of 2016, we took over from the Lithuanian organisation TAEM.
How the EVIDENCE was Gathered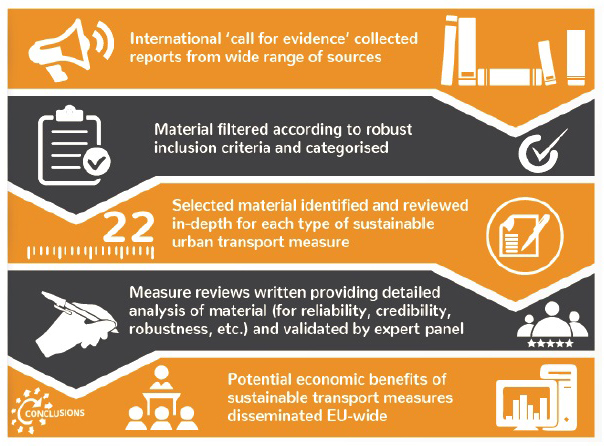 A project presentation by the Coordinator can be found here.
Funding
EVIDENCE is funded by the European Commission as part of the Intelligent Energy Europe STEER programme. It runs from 2014 until 2017. Its overall budget is 1.2 million Euros.
Follow the project on Twitter: @sumpsevidence
For more information
Do you want to receive more information about this project? Please send an email to [email protected]